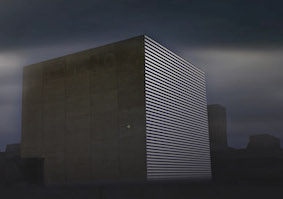 OSC-L (simulation) © Ulf Langheinrich
OSC-L is a special creation for the National Theatre's flytower, commissioned and presented by "Lumiere-London" (UK) from 18 to 21 January 2018.

It is a special version of the work OSC conceived in 2000, not only in terms of monumental dimensions, but also in terms of its multi-angle view. The impression close to the building on the terrace is different from the impression from further away.



---
Audio visual composition and light environment: Ulf Langheinrich
Compositing assistance: Wolfgang Schwarzenbrunner
Playback software: Dirk Langheinrich
Production: Ulf Langheinrich