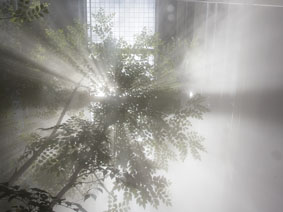 CLOUD FOREST © Ryuichi Maruo
Artistic environmental spheres formed by fog, light and sound
Large-scale project unveiled simultaneously in three public spaces in and around YCAM.

These commissioned installations conceived in-residence at YCAM combine artificial fog, sunlight and sound, orchestrating with the help of originally developed devices and responding to changing weather conditions a variety of impressive sceneries. Visitors can experience transformations in their perception as they interact with artworks incorporating information technology while walking in the fog in the patios or surrounding park. While introducing and reevaluating foresighted art and science projects originally presented at the EXPO'70 Osaka, which eventually inspired this new project, the exhibition anticipates the future of environmental creation, "informational spheres" of tomorrow, and possible creative quests through art.

The exhibition's title, CLOUD FOREST is borrowed from the name of a subtropical forestal area that is characterized by a frequent formation of mist about the canopy level. It is a place that can be considered as a peculiar zone of active interpenetration right in the middle between wild nature and the realm of human society.
At the same time, the title is a reference to David Tudor's sound installation/performance piece Rainforest. Approaching the laws of nature by means of cutting-edge technology, this exhibition pays deep homage also to the innovativeness of the "Island Eye Island Ear" project that Fujiko Nakaya conceived with Jacqueline Monnier back in the 1970s.


---
Commissioned by YCAM (2010)

Creation: Shiro Takatani
In collaboration with Fujiko Nakaya
Conception and video creation Shiro Takatani
Fog sculptures: Fujiko Nakaya
Sound Design and Graphic design: Takuya Minami (softpad)
Programming: Ken Furudate Technical Director and light designer: Takayuki Fujimoto
Video assistant: Richi Owaki
With the participation of Noriko Sunayama
Administration: Yoko Takatani


Organized by Yamaguchi City Foundation for Cultural Promotion
In association with Yamaguchi City, Yamaguchi City Board of Education
Grants from THE ASAHI SHIMBUN FOUNDATION
Supported by the Agency for Cultural Affairs Government of Japan in the fiscal 2010
Co-developed with YCAM InterLab
Produced by Yamaguchi Center for Arts and Media [YCAM]

Curator: Kazunao Abe (YCAM)