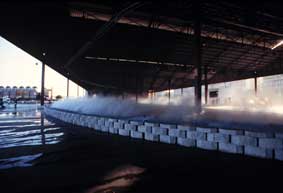 IRIS © Shiro Takatani
IRIS is a special creation for the Valencia Biennial (Spain)
This 120m long fog sculpture was presented in June 2001 at the Tinglado in the Valencia seaport.

Nature in its infinite possibilities, perceived simultaneously in totality and partial chaos.
Time, space and consciousness, re-examined from shifting vantage points.
The present work combines a curved fog sculpture with projected images to compose an entire day in time and space.
The viewer sees both the sunlight, wind, artificial lighting, chaotic structures on the level of fog particle motion, as well as a perfectly circular halo and other elements reflected back in entirety.
The viewer becomes aware of the infinitely changing possibilities in line of sight, in timing, in weather conditions, aware of people's ever-inconstant perspectives.a et Shiro Takatani, combine sculptures de brume et projections d'images, sur un quai de 120m de long.



---
Creation
Shiro Takatani
In collaboration with
Fujiko Nakaya
Conception and video creation
Shiro Takatani
Supervisor of fog sculptures
Fujiko Nakaya
Technical director and lighting design
Takayuki Fujimoto
Video assistant
Richi Owaki
Performer
Noriko Sunayama
Manager
Yoko Takatani