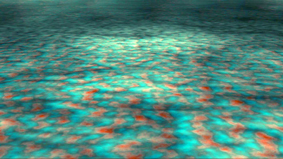 LAND © Ulf Langheinrich
In the middle between a cinematic approach and an installation, LAND continues Ulf Langheinrich's exploration into sensory immersive environments, at the core of his recent artistic research into the nature of digital illusion.

He creates pure, large scope spaces devoid of objects or gestures yet dense with matter. LAND is a digital landscape rendered solely out of two algorithms that create pure noise.
This is a negative land, a moulding nothingness; an ocean of digital grey rendered out of particle system formula and fractal noise calculations; an abysmal deep land, a homeland today.
Obviously a maximum attention is paid to the notion of the perfect Illusion with the intention of embedding and immersing the viewer in an sensually exiting experience.
However, the material itself is bleak and not immediately rewarding the viewer with all sorts of exiting trickery for his/her patience.

Premiere: 18 September 2008, FACT (Foundation for Art and Creative Technology), Liverpool Biennial International '08 (UK).

In 2018, the Musée d'art contemporain de Lyon acquired the piece after presenting it in 2014 as part of "Langheinrich, Goebbels, Feldman" exhibition.


---
Running time: 30 minutes
© Ulf Langheinrich 2008-2013

Audio visual composition and light environment: Ulf Langheinrich
Compositing assistance: Wolfgang Schwarzenbrunner
3D assistance: Brandon Tay
Software: Dirk Langheinrich
Studio playback system: provided by Klangfarbe Wien
Produced by FACT Liverpool
Commissioned and produced by Liverpool Biennial International 08.