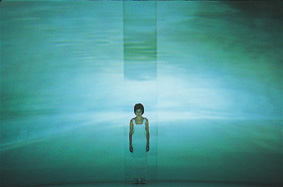 [OR] © Em Valette
[OR] - binary system
[OR] - Alternative A or B
[OR] - 0 (zero) radius - invisible circle - point / dot
[OR]- operation room
It is about the state of "white out" like in a blizzard,


where you are deprived of ability to see,
where you can't recognize anything,
where you don't know where you stand any more,
where you may not know whether you are alive OR dead.
But what distinguishes one from the other ?
Where is the border ?
What is death ?
What is it ?


[OR] was declined in three versions:


[OR] performance
In 1997, dumb type created the show [OR].
Looked from various view points, be it religious, philosophical, medical, cultural or emotional, on a stage flooded in flickering light, with an advanced technique of combining bodies, images, video, sounds and lighting, [OR] is a meditation on the "grey humour" overhanging the space between life and death.

[OR] concert
A concert version of [OR] was performed in Festival Palermo di Scena-S.Maria Dello Spasimo/Palermo, Italy in july 1997 (World premiere)
Composition+performance: Toru Yamanaka & Ryoji Ikeda

[OR] installation
Also entitled [OR], a related installation piece, was commissioned by the Inter Communication Center (ICC) in Tokyo for its opening in April 1997 and is now part of its permanent collection. A new version was purchased by the Musée d'Art Contemporain, Lyons (France) in 2000 for the exhibition GRAME/Musiques en scène.



---
Creation dumb type - Visual creation Shiro Takatani, Toru Koyamada, Takayuki Fujimoto - Sound creation Ryoji Ikeda, Toru Yamanaka - Conception collaboration Hiromasa Tomari, Alfred Birnbaum - Performers Kenjiro Ishibashi - Takao Kawaguchi, Hidekazu Maeda, Seiko Ouchi, Noriko Sunayama, Mayumi Tanaka, Misako Yabuuchi - Management Yoko Takatani - Production dumb type - Co-Production Barbican Centre London, Change Performing Arts Milano, Créteil Maison des Arts, Epidemic, Expo '98 Lisboa, Festival d'Automne à Paris, Kampnagel Theater Hamburg, Le Manège - Scène Nationale de Maubeuge, Stockholm Cultural Capital of Europe 1998, Zürcher Theater Spektakel