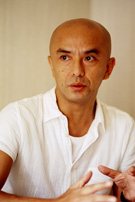 Saburo Teshigawara
© Norifumi Inagaki



Saburo Teshigawara began his unique creative career in 1981 in his native Tokyo after studying plastic arts and classic ballet. In 1985, he formed KARAS with Kei Miyata and started group choreography and their own activities. Since then, he and KARAS have been invited every year to perform in major international cities around the world.

In addition to solo performances and his work with KARAS, Teshigawara has also been receiving international attention as a dancer/choreographer/director. In 1994/95 he choreographed for the Ballet Frankfurt at the invitation of William Forsythe, Le Sacre du Printemps for the Bayern State Ballet in 1999, Netherland Dance Theater I in 2000. In February 2003, Teshigawara was invited to choreograph a new piece AIR for the Ballet de l'Opera National de Paris. Also for the Ballet du Grand, Théâtre de Genève, choreographed Para-Dice in 2002, and VACANT in May 2006.

Teshigawara has likewise received increasing international attention in the visual arts field, with art exhibitions (Light Behind Light in 2004, Fragments of Time and Double District in 2008), films/videos (such as T-City in 1993, and more recently Perspective study vol. 1 in 2004, A Tale Of in 2005 and Friction of Time – Perspective Study vol.2 in 2008) as well as designing scenography, lighting and costume for all his performances.

Teshigawara's keenly honed sculptural sensibilities and powerful sense of composition, command of space and his decisive dance movements all fuse to create a unique world that is his alone. Keen interests in music and space have led him to create site-specific works, and collaboration with various types of musicians.

Besides the continuous workshops at the KARAS studio in Tokyo, Saburo Teshigawara has been involved in many education projects. S.T.E.P. (Saburo Teshigawara Education Project) has been initiated since 1995 with partners in the UK, bringing out performances as a culmination of year-long projects. In 2004, he was selected as the mentor of dance for The Rolex Mentor and Protege Arts Initiative, to work for one year with a chosen protégé. From 2006 to 2013, he taught at the College of Contemporary Psychology, St. Paul's (Rikkyo) University in Japan. Since 2014, he is professor at the Tama Art University, department of Scenography Design, Drama, and Dance.
Through these various projects, Saburo Teshigawara continues to encourage and inspire young dancers, together with his creative work.
KARAS was formed in 1985 with Saburo Teshigawara and Kei Miyata. The group's aim was to search for a 'new form of beauty'. 'Dance' is a form of art that consists not only of dance but also of elements of art, music, conscience methodology and historical view. KARAS began considering all such factors through the fusion of physical movement, visual art, rock and classical music.
Being an artist means facing the socio-psychological restrictions hidden under an outwardly serene surface.

"Anything goes -- doesn't it ?".

Thus, KARAS believes that art must not stagnate conservatively. New discoveries must be made. Rather than art or art methodology springing from conventional ideas established through history, we hope to act with our own methods with respect to still hidden possibilities. What we discover maybe doubts or questions. We want to express these through action.