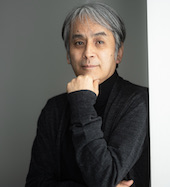 Shiro Takatani
Born in 1963.
Graduated from Environmental design - Art Dept. of Kyoto City University of Arts.

Co-founder of Dumb Type in 1984, Shiro Takatani has been involved especially in the visual and technical aspects of the group creations and soon became artistic director.
In his solo career, he participated in various projects with other artists. Among others, he worked on a municipal project of Groningen, Holland (masterplan: Daniel Libeskind), with Akira Asada in 1990, created images for the Dangerous Visions music program by Art Zoyd and the National Orchestra of Lille in 1998 and did the visual direction for the Ryuichi Sakamoto's opera LIFE in 1999.

Takatani's works include many video installations, such as frost frames (1998), optical flat / fiber optic type (2000), which is part of a collection of the National Museum of Art, Osaka, Japan, and IRIS, created with fog sculptor Fujiko Nakaya for the Valencia Biennial, Spain, in 2001.
Commissioned by the Natural History Museum of Latvia in Riga, for the exhibition "Conversations with Snow and Ice", his installation Ice Core was presented in November-December 2005, as part of a retrospective of the works of the snow and ice scientist Ukichiro Nakaya (1900-1962).
In 2006, under the auspices of the Japan Foundation's 2006 Australia-Japan Exchange Project "Rapt! 20 contemporary artists from Japan", he was selected for a one-month residency in Australia and exhibited the artwork Chrono in Melbourne.
In 2007, he created the audiovisual installation LIFE – fluid, invisible, inaudible… in collaboration with Ryuichi Sakamoto, commissioned by Yamaguchi Center for Arts and Media (YCAM), Japan. A DVD version was released in 2008.
The same year Takatani travelled to Greenland and Iceland by sailboat, joining the arctic expedition project "Cape Farewell" (based in U.K.) in 2007. The related exhibition was held in July-August 2008 at Kagakumiraikan (National Museum of Emerging Science and Innovation) in Tokyo, Japan.
In June 2008, he conceived and directed the first performance on his behalf La chambre claire (German title: Die helle Kammer) after a three-week residency at the Theater der Welt Festival in Halle, Germany.
His next installation Cloud Forest, was the fruit of a new collaboration with Fujiko Nakaya. Commissioned by YCAM, it was created in 2010 in Yamaguchi.
Moreover, Takatani did the visual direction for the collaborative Mallarmé Project - Igitur, with Moriaki Watanabe and Ryuichi Sakamoto at Kyoto Performing Arts Center in 2011.
In September 2012, his latest performance CHROMA, with original music by Simon Fisher Turner, was premiered at Biwako Hall in Shiga, Japan.

He also participated in the exhibition "Kichizaemon X" with Raku Kichizaemon XV at Sagawa Art Museum, Japan, from September 2012 until April 2013, and created silence spins, a new installation in collaboration with Ryuichi Sakamoto and Seigen Ono, exhibited in October 2012 at the Museum of Contemporary Art Tokyo, and later as part of Sharjah Biennial (UAE) from March until May 2013. His installation Composition was also presented at Sharjah Biennial.
In April 2013, Takatani was invited to perform CHROMA concert version at SonarSound Tokyo.
The performance LIFE-WELL, in collaboration with Ryuichi Sakamoto and Mansai Nomura, was presented at YCAM in October 2013, as a special program for YCAM tenth anniversary. The related installation LIFE-WELL (Ryuichi Sakamoto + Shiro Takatani) at Noda Shrine, as well as new collaboration installations with Ryuichi Sakamoto water state 1 and the updated version of LIFE – fluid, invisible, inaudible… were commissioned by YCAM and created in November 2013 also for YCAM tenth anniversary special exhibition running until March 2014.
Takatani's solo exhibition "Camera Lucida" was held at the Tokyo Metropolitan Museum of Photography from December 2013 until January 2014.
In April 2014, he was commissioned to create one of the two first liquid artworks for the 3D Water Matrix, at La Cité des sciences et de l'industrie in Paris, as part of the nine-month exhibition "Robotic Art".
Takatani's forthcoming projects include two new installations, which will be exhibited in Japan: MEMORANDUM OR VOYAGE, the new Dumb Type's piece, commissioned by the MOT | Museum of Contemporary Art Tokyo in September 2014 and a fog and sound installation in collaboration with Ryuichi Sakamoto at the Park Hyatt Tokyo in November for its twentieth anniversary.
A new performance will be created in May 2015 after a two-week residency at Le Volcan in Le Havre, France.