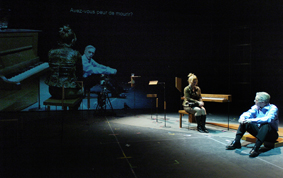 Lipsynch © Érick Labbé
Lipsynch is an exploration of human expression through voice, word and language. It touches on postsynchronization, voice synthesizers, operatic song, babies crying, voice detection, and many other vocal phenomena. The work takes the form of a succession of people from many backgrounds whose paths are destined to cross, while every voice seems to be on a quest for its own identity. In its range, humour and polyphonic variety, Lipsynch is reminiscent of American filmmaker Robert Altman's most ambitious projects, in which individual stories engage with the human Story.

"We often confuse voice, speech and language, but those are indeed three very distinct and totally different things. Lipsynch is about the specific signification of all three and their interaction in modern human expression.

Up until now, our work at Ex Machina had focused mainly on telling stories using image, movement, space and music. Voice was rather an afterthought. This time around, we have decided to make it our focal point, and see where the exploration of oral communication in all its forms would take us. This endeavor has lead us to unsuspected places, a dizzying trek forcing us, as individuals involved in this artistic project, to delve deeper than ever before into our own selves. The voice is an internal machinery that finds its ultimate expression outside of the body, but in order to examine it and try to understand it properly one needs to pull away from visual stimuli for a while and go where the voice is « seated » . As in our other shows, the form and structure of Lipsynch is baroque and unconstrained but this time, the characters seem to have emerged from a place that is more profound.

I often compare our evolving artistic process to the image of a tree. The audience only sees the trunk, bark, branches and leaves. But the artist should be preoccupied by the growth happening underground, in that unseen network of roots digging erratically yet so expertly that it can hold, sustain and nurture the whole tree."


Robert Lepage



• The first version was premiered in Newcastle (UK) in February 2007.
• The performance culminated in a nine hour epic journey in September 2008 in London (UK).

Under the title FRAGMENTATION, a sequence of Lipsynch has been adapted by Robert Lepage for the stereoscopic environment ReACTOR designed by Sarah Kenderdine and Jeffrey Shaw.




---
Text: Frédérike Bédard, Carlos Belda, Rebecca Blankenship, Lise Castonguay, John Cobb, Nuria Garcia, Marie Gignac, Sarah Kemp, Robert Lepage, Rick Miller, Hans Piesbergen
Direction: Robert Lepage
With: Frédérike Bédard, Carlos Belda, Rebecca Blankenship, Lise Castonguay, John Cobb, Nuria Garcia, Sarah Kemp, Rick Miller, Hans Piesbergen
Dramaturgy Consultant: Marie Gignac
Assistant Director: Félix Dagenais
Set Designer: Jean Hazel
Lighting Designer: Étienne Boucher
Sound Designer: Jean-Sébastien Côté
Costume Designer: Yasmina Giguère
Assisted by: Jeanne Lapierre
Props Designer: Virginie Leclerc
Images produced by: Jacques Collin
Wigs: Richard Hansen
Creative Collaboration during rehearsals: Sophie Martin

Production : Ex Machina and Théâtre Sans Frontières
In association with Cultural Industry Ltd and Northern Stage
Co-production: Arts 276/Automne en Normandie; barbicanbite08, London; Brooklyn Academy of Music; Cabildo Insular de Tenerife; Chekhov International Theatre Festival, Moscow; Festival de Otoño Madrid; Festival TransAmériques, Montréal; La Comète - Scène nationale de Châlons-en-Champagne; Le Théâtre Denise-Pelletier, Montréal; Le Volcan, Scène nationale du Havre; Luminato, Toronto Festival of Arts & Creativity; Napoli Teatro Festival Italia; The Sydney Festival; Wiener Festwochen

Producer for Ex Machina Michel Bernatchez
Associate Production - Europe and Japan Richard Castelli - Epidemic
Associate Production - The Americas, Asia (except Japan), Australia, NZ Menno Plukker Theatre Agent

Ex Machina is funded by the Canada Council for the Arts, Quebec's Arts and Literature Council
and the City of Quebec.