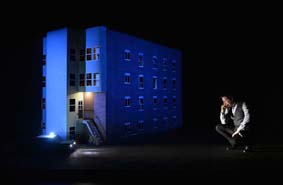 887 © Érick Labbé
887 is a journey into the realm of memory. The idea for this project originated from the childhood memories of Robert Lepage; years later, he plunges into the depths of his memory and questions the relevance of certain recollections. Why do we remember the phone number from our youth yet forget our current one? How does a childhood song withstand the test of time, permanently ingrained in our minds, while the name of a loved one escapes us? Why does meaningless information stick with us, but other more useful information falls away?

How does memory work? What are its underlying mechanisms? How does a personal memory resonate within the collective memory?

887 considers various commemorative markers—the names of parks, streets, stelae and monuments—and the historical heritage around us that we no longer notice. Consequently, the play also focuses on oblivion, the unconscious, and this memory that fades over time and whose limits are compensated for by digital storage, mountains of data and virtual memory. In this era, how is theatre, an art based on the act of remembering, still relevant today?

All of these questions are distilled into a story where Lepage, somewhere between a theatre performance and a conference, reveals the suffering of an actor who—by definition, or to survive—must remember not only his text, but also his past, as well as the historical and social reality that has shaped his identity.

World premiere during the Arts and Culture Festival of the 2015 Pan Am and Parapan Am Games, Toronto (Canada) the 14th of July 2015.


---
887
Ex Machina / Robert Lepage

Written, designed, directed and performed by Robert Lepage
English Translation Louisa Blair
Creative Direction and Design Steve Blanchet
Dramaturg Peder Bjurman
Assistant Director Adèle Saint-Amand
Composer and Sound Designer Jean-Sébastien Côté
Lighting Designer Laurent Routhier
Image Designer Félix Fradet-Faguy
Associate Set Designer Sylvain Décarie
Associate Properties Designer Ariane Sauvé
Associate Costumes Designer Jeanne Lapierre

An Ex Machina production
Commissioned by the Arts and Culture Program of the TORONTO 2015 Pan Am and Parapan Am Games
in co-production with le lieu unique, Nantes; La Comète - Scène nationale de Châlons-en-Champagne; Edinburgh International Festival; Arhus Festuge; Théâtre de la Ville-Paris; Festival d'Automne à Paris; Romaeuropa Festival 2015; Bonlieu Scène nationale Annecy; Ysarca Art Promotions - Pilar de Yzaguirre; Célestins, Théâtre de Lyon; Le Théâtre français du Centre national des Arts d'Ottawa; Le Théâtre du Nouveau Monde, Montreal; SFU Woodward's Cultural Programs, on the occasion of Simon Fraser University's 50th Anniversary, Vancouver; Le Théâtre français du Centre national des Arts d'Ottawa; Le Théâtre du Nouveau Monde, Montreal; Tokyo Metropolitan Theatre Canadian Stage, Toronto; Théâtre du Trident, Quebec; La Coursive Scène nationale La Rochelle; Le Volcan, Scène nationale du Havre; The Brooklyn Academy of Music, New York; The Bergen International Festival; the Barbican, London; Holland Festival, Amsterdam; Chekhov International Theatre Festival, Moscow; Les Théâtres de la Ville de Luxembourg; La Comédie de Clermont-Ferrand, scène nationale; Onassis Cultural Centre, Athens; Théâtre de Liège; Walker Art Center, Minneapolis; Cal Performances, Berkeley; Performas Produções, São Paulo; National Performing Arts Center, Kaohsiung; Royal Manitoba Theatre Centre, Winnipeg; Hong Kong Arts Festival, Hong Kong; LG Arts Center, Seoul; Le Diamant, Quebec; Theatre Royal, Plymouth; Schaubühne Berlin, International Shakespeare Festival, Craiova ; DIVADLO - International Theatre Festival, Pilsen

Producer for Ex Machina Michel Bernatchez
Associate Production - Europe and Japan Richard Castelli - Epidemic
Associate Production - The Americas, Asia (except Japan), Australia, NZ Menno Plukker Theatre Agent

Ex Machina is funded by the Canada Council for the Arts, Quebec's Arts and Literature Council
and the City of Quebec.