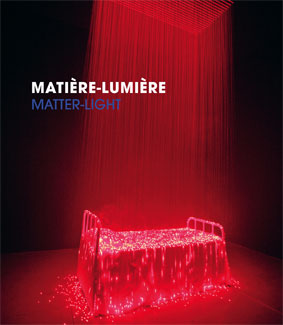 Béthune 2011 Capitale régionale de la culture
Le 360 - Le Garage - Dôme Grand Place, Béthune
2 April - 29 May 2011

Immersion

Du Zhenjun - Global Fire
Jean Michel Bruyère - Le Chemin de Damastès, La Dispersion du Fils (for the AVIE)
Kurt Hentschläger - ZEE
Ulf Langheinrich - ALLUVIUM (for the AVIE), LAG, LAND II
Jeffrey Shaw - AVIE Advanced Visualisation And Interaction Environment

Physical Virtuality

Sarah Kenderdine & Jeffrey Shaw - ReACTOR
Robert Lepage - Fragmentation (for the ReACTOR)
Li Hui - Amber, Reincarnation
Julien Maire - Exploding camera, Low resolution cinema
Thomas Mcintosh, avec Emmanuel Madan & Mikko Hynninen - Ondulation
Christian Partos - Aquagraf, ELO, MOM, Step-Motor Animations
Erwin Redl - MATRIX II
Ryuichi Sakamoto + Shiro Takatani - LIFE - fluid, invisible, inaudible...
Saburo Teshigawara - Double District (for the ReACTOR)

Curator: Richard Castelli (Epidemic)
---
The birth of Visual Arts has been conditioned by the usage of the Matter: from the coloured pigments handprinted or blown to deliver positive or negative traces of Artist's hands in prehistoric caves, to the most sophisticated paintings or sculptures.
If we ignore the human energy deployed during the act of creation, the necessary heat to burn clay, the heat to melt metal or the lights of the sun for stained glass, the presence of energy in the artistic process is minimal.
We have to wait until the Jacquemarts period, the first automatons or the first automated shows to see together the integration of energy into the creative process under its mechanical influence even if it was more a support to this particular artistic movement rather than an artistic intrinsic source.
In this continuity, the last century is the witness, with Cinetic Art, of the integration of energy in Art again under its mechanical form but especially also under its purest form: Light.
The development of new media has only accentuated this tendency in which the most popular expression is the virtual world where the disappearance of the Body is associated with the disappearance of the Matter which in turns leads to the disappearance of History, Space and Time.
Several artists, even when they are masters in the new media art field, do not wish to be trapped into a single track as great as it appears to be. And building on their experiences, they do not hesitate to reintegrate the Matter into their artworks, whatever forms, solid, liquid or gaseous, they will choose, even if the Matter has to be confronted to the Light or the Electronic Image or to play with.
Matière-Lumière (Matter-Light) will be the witness of this new tendency where electronic academisms will be swept aside in favor of a new, more intuitive, more physical, more sensorial approach, bringing back the Body and its sensations at the place where they should not leave especially when it is about art.
Some artworks will reveal themselves in the interstice of Matter and Light,
others will arise from their friction.
For some, Matter will be Light, for others, Light will be Matter.
Richard Castelli
Curator.