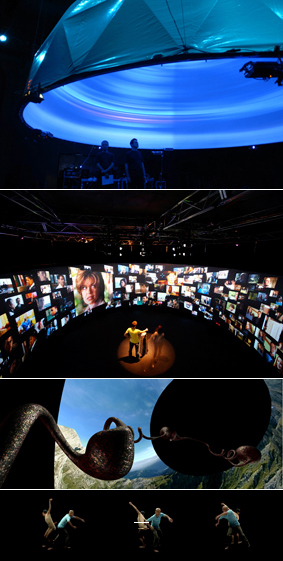 HEMISPHERE by Ulf Langheinrich
T_Visionarium by Neil Brown, Dennis Del Favero,
Jeffrey Shaw and Peter Weibel
La Dispersion du Fils by Jean Michel Bruyère / LFKs
DOUBLE DISTRICT by Saburo Teshigawara
Festival eArts
Shanghai Science and Technology Museum and Shanghai Zendai Museum of Modern Art, China
18 October - 10 November 2008
With:

Neil Brown, Dennis Del Favero, Jeffrey Shaw & Peter Weibel - T_Visionarium (for AVIE)
Jean Michel Bruyère - Le Chemin de Damastès, La Dispersion du Fils (for AVIE)
Du Zhenjun - Y-aller
Matthias Fritsch - Parallaxe
Granular Synthesis - POL
Sarah Kenderdine & Jeffrey Shaw - PLACE-Hampi (for the PLACE)
Diane Landry - Le déclin bleu
Ulf Langheinrich - Hemisphere, Waveform B
Julien Maire - Exploding Camera, Low Resolution Cinema, Model for the Apocalypse
Christian Partos - Aquagraf, M.O.M., Step-Motor Animation
Casey Reas - MicroImage
Jeffrey Shaw - Golden Calf
Jeffrey Shaw & Sarah Kenderdine - UNMAKEABLELOVE (for the ReACTOR)
Saburo Teshigawara - Double District (for the ReACTOR)

Curator: Richard Castelli (Epidemic)
---
eLandscapes, one of the main exhibitions of the second edition of Shanghai eARTS Festival is not only perpetuating the tradition of panoramas with the added value of stereoscopy and interactivity but it proposes many others ways to consider the concept of landscape.
eLandscapesinvolves a total re-working of the screen-spectator relation for which new technologies and new narrations are necessary. Whether immersive, labyrinthine, and/or interactive, these new possibilities are bringing numerous centres of research and productions together with new artists who are liberating themselves from the constraints of the classical screen and are proposing to draw out and to sculpt the projected image and to shatter the relation between the spectator and the works.
To avoid an audience's feeling of a too narrow-minded vision about landscapes in mutation, concentrated only on projected images, eLandscapes is punctuated with some more « concrete » installations to prove that new ways of thinking the concept of landscape can be express also through more physical elements such as moving beds controlled by computer, lights traveling upon used plastic bottles giving a more organic aspect to this exhibition.
Richard Castelli
Curator