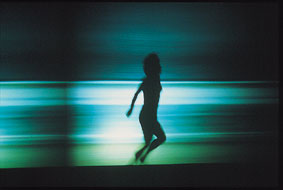 memorandum © Emmanuel Valette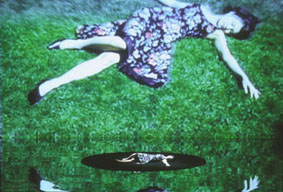 Voyage © Emmanuel Valette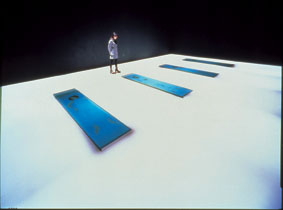 [OR] © ICC + dumb type
1997 InterCommunication Center, Tokyo

Dumb Type is based in Kyoto, Japan. Members are trained in varied disciplines, including the visual arts, architecture, music and computer programming as well as writing, acting, dance, and other forms of performing arts. dumb type's work ranges across such diverse media as art exhibitions, performances, audio-visual and printed publications.


PLAN FOR SLEEP (1984-86) … EVERY DOG HAS HIS DAY (1985) … THE ORDER OF THE SQUARE (1985) … 036 PLEASURE LIFE (1987) … PLEASURE LIFE (1988) …


pH (1990–93) was dumb type's largest scale work to-date integrating performance, installation, video, and printed material. The audience's seats lined up above both sides of a slender sixteen-meter white linoleum floor. On the stage a horizontal bar moved across the floor suggesting a giant photocopy machine. Installed on the bottom surface of the bar were a number of slide projectors, which projected images onto the floor where performers (human beings) acted and danced under the mercy of and/or against the machine (society.)

S/N (1992-96) was triggered by the former director Teiji Furuhashi's infection by the HIV virus that causes AIDS, the political issues of AIDS, and, more significantly, dumb type's overriding interest in how individual identity is conditioned within each individual's self. The performance challenged the fine line between the fiction of theatre and reality through its unusual 'live' talk show style (in which Teiji himself comes out, together with a couple of other performers, as "homosexuals" and "HIV positive"). A wide range of images, texts and vignettes surrounding such themes were combined with strikingly new dance as well as video and slides, lighting and sounds. The piece reverberated across many groups in society; its message "what can art do for society and the individual?" shocked both the theatre and the visual arts community, as well as the general community and activists, all living with the HIV/AIDS crisis.

[OR] (1997-1999) was created in France in March 1997, following a one-month residency at the Théâtre du Manège in Maubeuge. [OR] is a reflection on the border(s) between life and death, the meaning of its title ranging from the binary system, to the alternative A or B, the 0 (zero) radius, an operation room. Some of the most advanced techniques combined the human body and various media to elicit a range of viewpoints, whether religious, philosophical, medical, cultural, or emotional, onto a blinding-white stage that consisted of a circular floor and semi-cylindrical wall.
dumb type described the work as being "about the state of 'white out' like in a blizzard, where you are deprived of ability to see, where you can't recognize anything, where you don't know where you stand anymore, where you may not know whether you are alive OR dead. But what distinguishes one from the other? Where is the border? What is death? What is it?"

memorandum (1999-2002) The first version of this show was presented in October 1999 by Le Manège, Scène Nationale de Maubeuge, France. The final version was premiered at the New National Theatre of Tokyo on November 27th 2000. Combining elements of multimedia, dance and fragmented narrative, memorandum explores the hazy dimensions of recall that ground and disquietly erode our experience minute-by-minute.

Voyage, the most recent performance by Dumb Type, co-produced by the Centre de Développement Chorégraphique de Toulouse, was premiered in April 2002 at the Théâtre National de Toulouse, France.

Art installations by dumb type include Lovers (Dying Pictures, Loving Pictures), created in 1994 by Furuhashi and now in the permanent collection of Museum of Modern Art in New York and Love/Sex/Death/Money/Life, first exhibited at Spiral Tokyo the same year. The installation piece [OR], related to the performance work, was commissioned by the Inter Communication Center (ICC) in Tokyo for its opening in April 1997. A new version of the OR installation was purchased by the Musée d'Art Contemporain, Lyon in 2000. Lovers and OR installation were also exhibited among others in Lille (France) by Lille 2004 - European Capital of Culture. In 1998 artistic director Shiro Takatani created frost frames for the Spiral Hall Tokyo. Other installations include Cascade premiered at the Rotonda della Besana Milan in 2000 and Voyages, related to the performance Voyage, commissioned by NTT ICC and premiered in Tokyo in August 2002.
The latest 4K video installation MEMORANDUM OR VOYAGE presented at Tokyo Museum of Contemporary Art in 2014 revisits visual imagery and sound from past works [OR], memorandum and Voyage.

Music projects include Takatani's contribution as artistic director on the first opera by Ryuichi Sakamoto, which premiered in September 1999. In March 1998, dumb type designed the "symphonic novella" by Gérard Hourbette for the first cycle of Dangerous Visions, a project of Art Zoyd and the Orchestre National de Lille, France, combining philharmonic orchestra and new sound and image technologies.