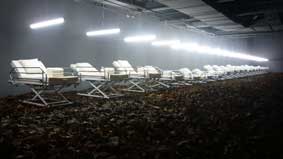 Le Chemin de Damastès © LFKS
Le Chemin de Damastès (The Path of Damastes) is a sculpture made of 21 white medical beds overhung by 21 fluorescent "daylight" tubes. The beds are animated with permanent movements, set and synchronized through with a computer. Together they perform a true ballet.

Damastes is a character from Greek mythology. Damastes, also known as Procustes and Polypemon, lived by the road from Megara to Athens. He had a bed on which he forced travelerstravellers to lie down. From For those who's whose size exceeded the size of the bed, he would cut off their feet and legs to make them fit perfectly into the bed. From For those who were too small, he would stretched their limbs until they reached the exact measurements of the bed…

In traditional and ancient customs, the bed is not only a place of rest, regeneration and death; it symbolizes the body.



---
Jean Michel Bruyère / LFKs 2008
Production LFKs Marseille – Epidemic Paris
Co-production Getsound Paris (electronic system and MIDI score)
Executive producer LFKs Marseille
with the support of the Fondation BNP-Paribas Paris, La Friche la Belle de Mai Marseille and Mark Hubbard